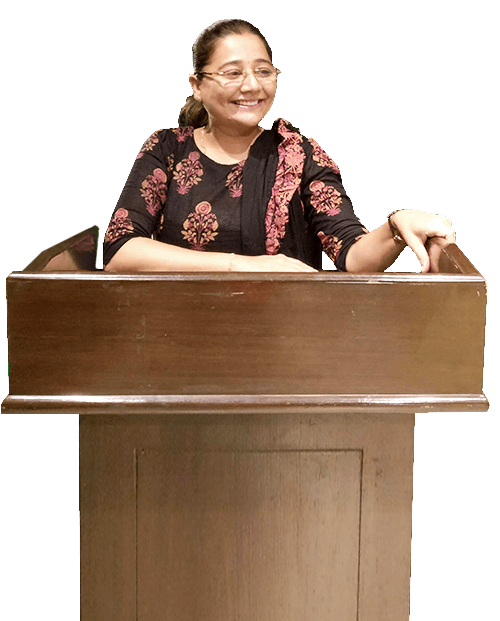 For Swati, to express has been as vital as to breathe. This fact helped her to start writing at a very tender age which was kept to her diaries only back then.  Having been raised in an educationists' family, in a really small town, She has been carrying a strong head along with a soft heart.
Swati is a willful believer of her parents, God, knowledge and truth in the exact same order. Degrees in Science, Academics and a Paramedical PG diploma are reflected in the versatility of her choice of subjects she writes about. 
She served and experienced the life of a paramedic for half a decade. In floating with life; as the time demanded, ended up as an educator in last ten years.
And as it goes; once an educator, always an educator.
Her love for various languages led her to a compelling career in content writing. She continues with the same, thriving as a well sought after content writer and translator. With years passing, there accumulated various experiences and stories to be told. Sharing those with her writing skills has been her prime enterprise now.
Human beings and emotions are the subjects that appeal Swati the most. Relations are her forte. Ability to write in English and Gujarati both has given her a vast sky to spread her wings.Whatever she imagines, feels or observes comes to us in form of short stories and articles. She expresses the intensity of the emotions through the poetry written in her mother tongue. Her day to day ascertainment and thoughts are brought to us as Yellownotes and quotes. Unique tiny stories with musical ends are some of the most cherished content by her readers.
Read from your Favorite Topics
Not sure what to read from categories above? I am gradually adding tags to all my posts. Explore posts by tags below.
Inviting Fellow Writers to write Guest Posts
At Swati's Journal, I along with my small technical team am publishing under various categories like Articles, Yellownotes, Stories, Series, Musicals and Poetry in English and Gujarati language.
If you also are a part of the same fraternity,I'm inviting you to join as a Guest writer by submitting prose and poetry in any or both the languages. Anyone who's aware of blogging online can become the guest here.
Who can join as a Guest Writer?
Swati's Journal hosts creative content in English and Gujarati Languages. So, all the writers who wish to write in any / all languages are invited. Most read categories include Short stories, Articles and Poetry.
How to Join as A Guest Writer?
Please follow complete guideline page here - Guest Post Guidelines Or Feel free to contact Swati at hello@swatisjournal.com
Do Guest Writers get paid?
Swati's Journal is a web publication offering free content for the readers. Consider it as a community of creative writers and readers. So, No Paid Guest Posts ( Yet! )
How many Guest Posts Can be Submitted per month?
Swati's Journal is run by a small team, mostly by Swati herself. So, review takes 3 - 4 days per post. Considering time for a publishing cycle, anyone can submit 3 to 4 posts per month.