SEO undoubtedly is the most vital digital marketing strategy for all blogs and sites willing to increase their traffic and rank. Fortunately, despite the SEO complexity and difficulty, many helpful tools like SEMrush have made the process much easier.
Featured image credit – Sebastian Sikora, CC By 3.0, via henryharvin
Here I will review SEMrush – one of the most popular SEO tools with various features, which is many SEO specialists' favorite. So, let's dive into discovering more about how it works.
What is SEMrush?
SEMrush is an all-in-one digital marketing tool created by Dmitry Melnikov and Oleg Shchegolev in 2008. Now millions of users worldwide are using it, which is a significant amount. SEMrush is not limited to SEO, but you can optimize your social media and run pay-per-click (PPC).
In this article, I will specifically focus on the SEO side.
Like other SEO tools, the primary feature of SEMrush is to generate valuable keywords for your website.
It also enables you to realize trends in your particular industry niche. You can analyze your competitors in your unique niche and figure out their strategy to know how they rank in the search engine, and with the relevant insights, you will learn how to stack up to the competition.
---
How Does SEMrush Pull Data?
SEMrush lets you pull all needed valuable data by entering the URL. If you enter a website URL in the Domain overview section, you will instantly encounter many valid data indicating the competitors' strategy that enabled them to rank in google.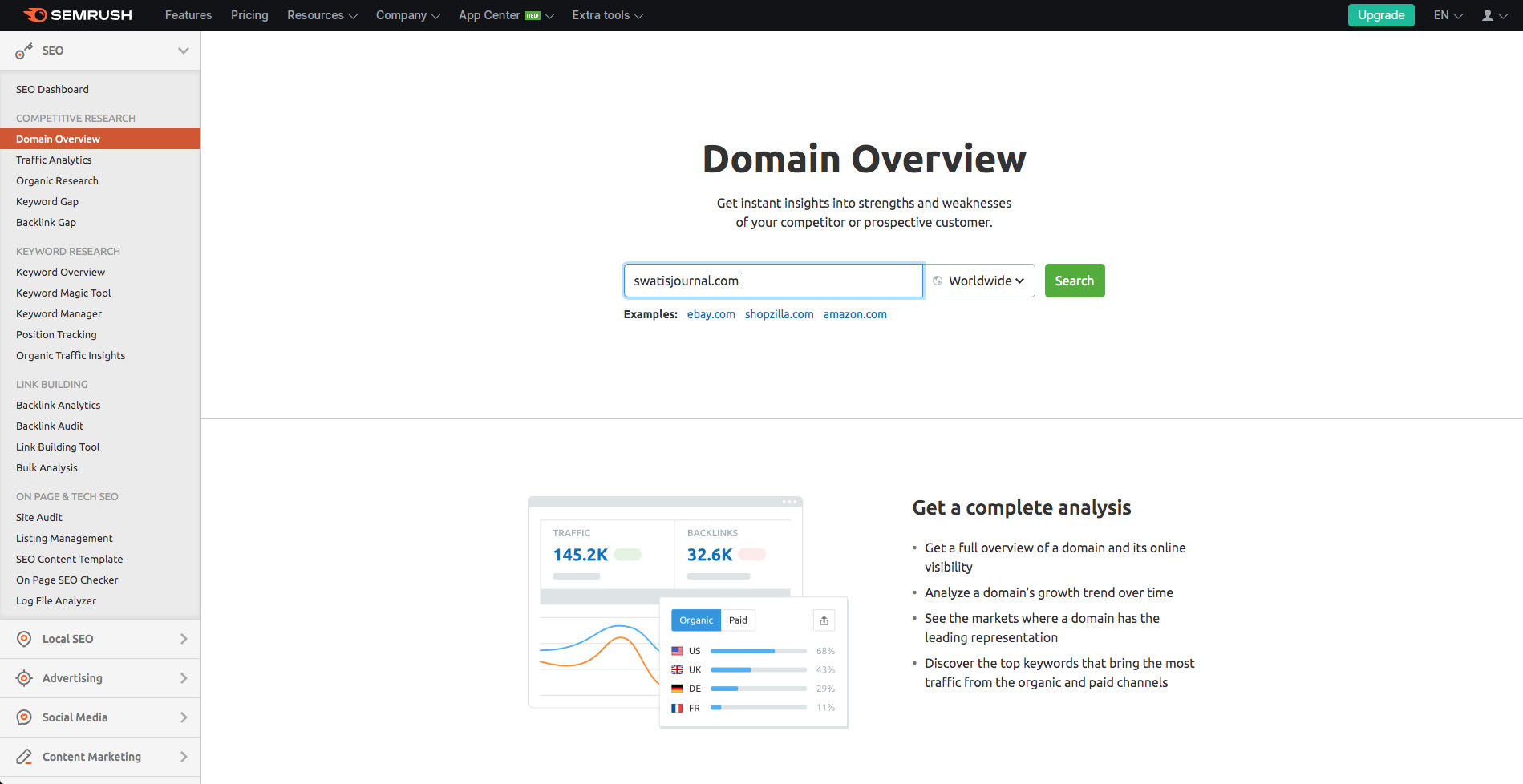 It also analyses your website visibility and shows how well you are competing with them, then helps you efficiently grow in the competition.
SEMrush is a combination of various tools, and most people only need several limited of them based on their needs. So, SEMrush enables you to customize your desired tools to focus on your unique purposes specifically.
Keyword Research in SEMrush
This tool in SEMrush is so advanced that you can analyze each keyword in great detail. When you enter a keyword in the keyword overview tool, firstly, you can see how difficult is the keyword to rank by the keyword difficulty score that SEMrush gives to it.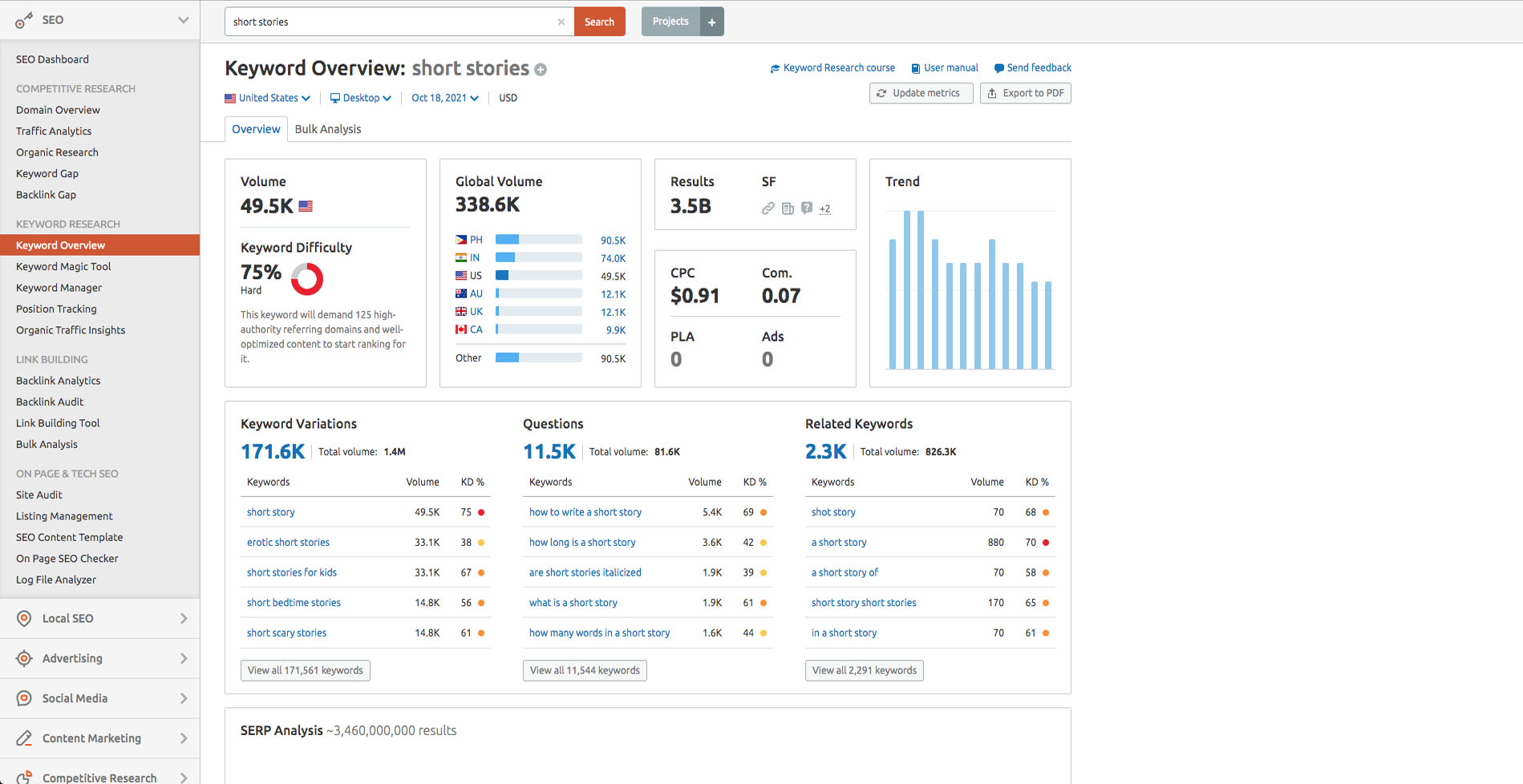 The difficulty score will be shown by percentage, and naturally, the more the percentage increases, the more difficult it'll be. After that, you will see how many people search for that specific keyword in the month and who has already ranked for it. SEMrush also suggests some efficient alternative keywords based on your target.
SEMrush Content Marketing Toolkit
In addition to keyword research tools, if you are creating blogs for your website, SEMrush provides you with features to help you identify suitable topics to write about and target your audience. It also monitors your competitors and lets you identify what keywords they are using in their posts.
One of SEMrush's great features that is so popular is real-time advice while writing your copy within SEMrush.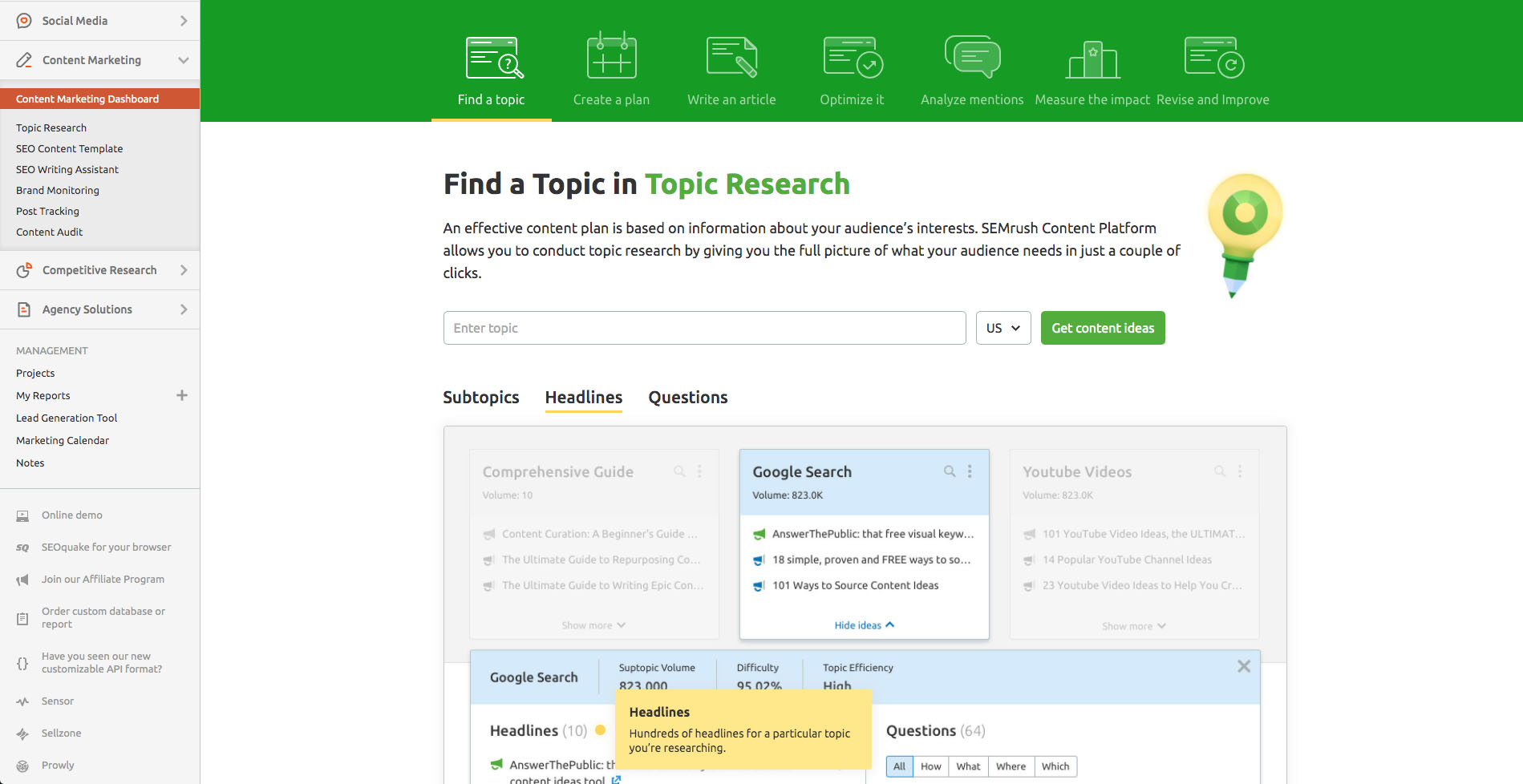 Some examples of these pieces of advice are increasing or decreasing the words count, auto-suggesting a particular keyword to include it within a specific sentence, and some warnings if it seems that you have grabbed your content from other websites. You can also paste your URL to see the same result without copy and pasting the whole text.
Well, I am not too great with data based writing, so I mostly choose to create my content based on my reader requests.
---
Rank tracking
You can track your website position in search engines for a particular keyword. The process is easy. First, go to the positions tracker section, enter your URL and your desired keyword(s), choose your country, and see the report on how your website ranks based on the keyword you entered.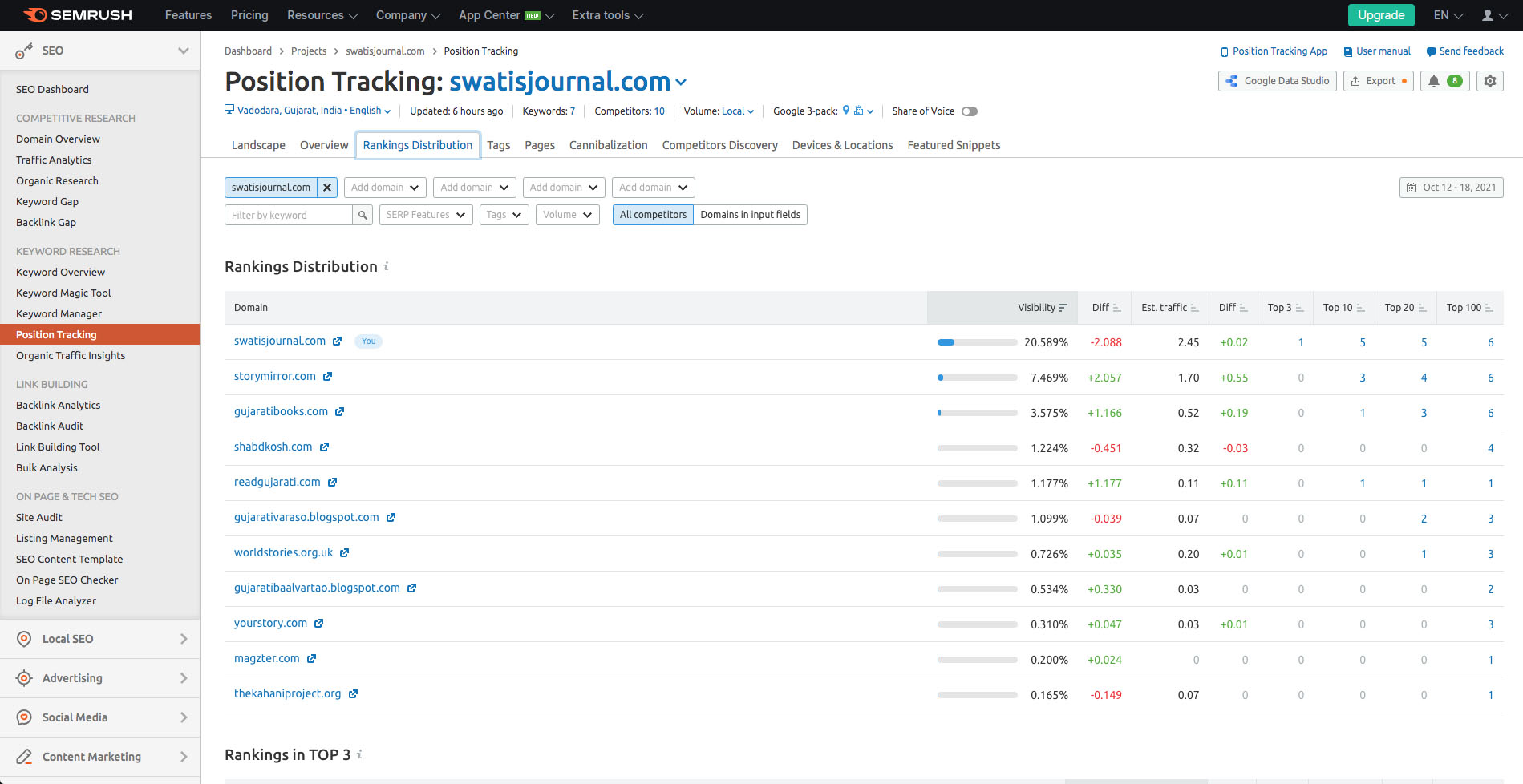 You can enter your competitors' website data into the SEMrush rank tracking tool to monitor your long-time progress and give you a report in each period on how well your progress is over time. As time goes on, SEMrush gets more data about your website and will guide you more accurately in the future.
SEMrush informs you step by step about your performance via email. For example, if a special content has dropped out of the top results for a particular keyword, it'll instantly email you.
---
Backlink Analysis
By entering your domain in the backlink analytics section, SEMrush gives you a list of its found backlinks.
Various data again will be shown for each backlink, including the anchor text used for each. You can also see the top-level domain distribution to figure out how many .com, .org, .gov,… your website has.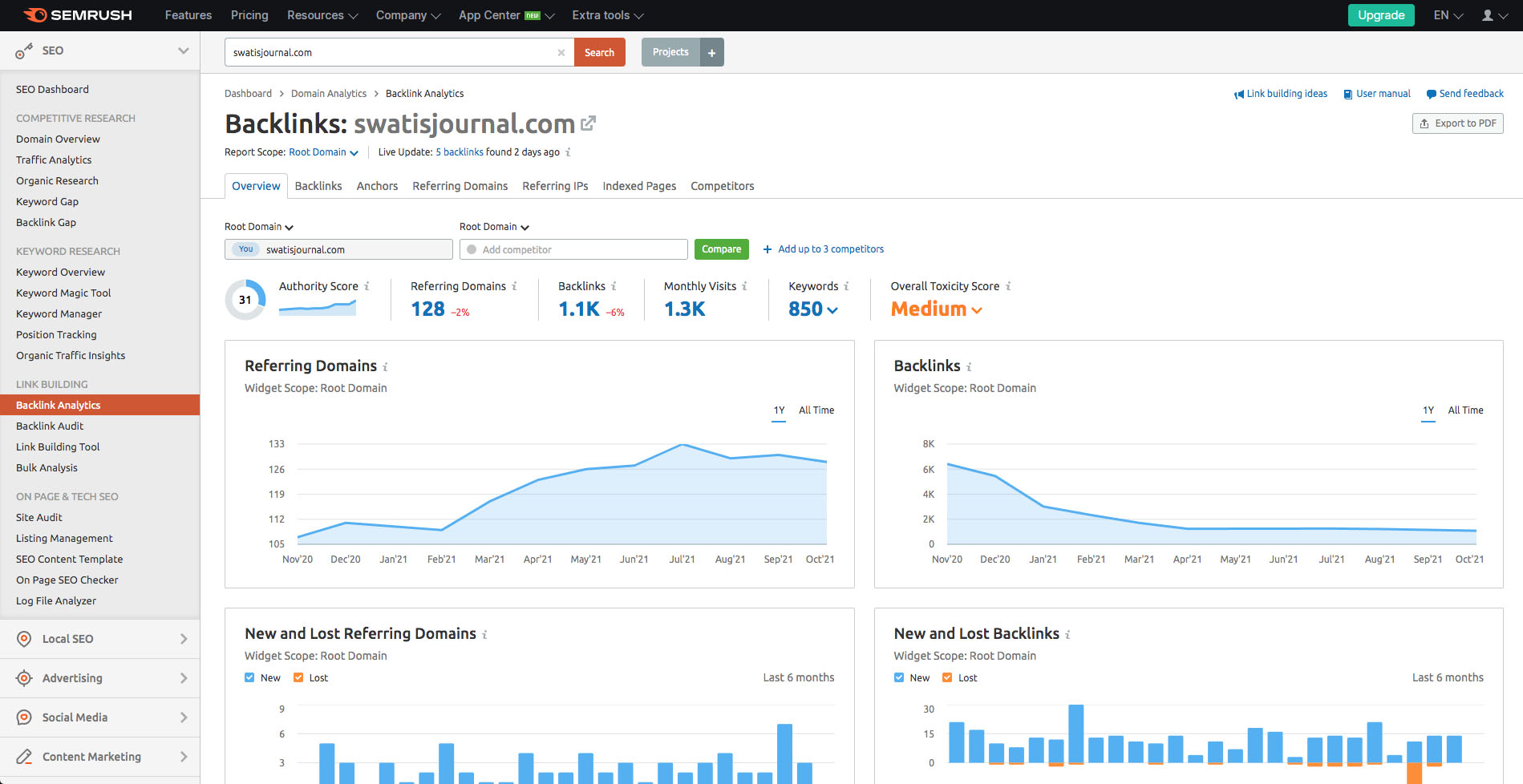 The accuracy of the SEMrush estimates about backlinks depends on its database expanse. SEMrush currently has one of the largest databases compare with other SEO tools. SEMrush has recently claimed that it has 43 million URLs in its database, which is more than Ahrefs, Majestic, and Moz.
---
Site Auditing
This is a feature that reviews the general performance of your website and recognizes all issues that harm your ranking. Some examples of these issues are missing headers, SSL problems, slow-loading content, overuse of keywords, and duplicate content.
After giving details about the issues, SEMrush gives you suggestions on how to eliminate and improve them.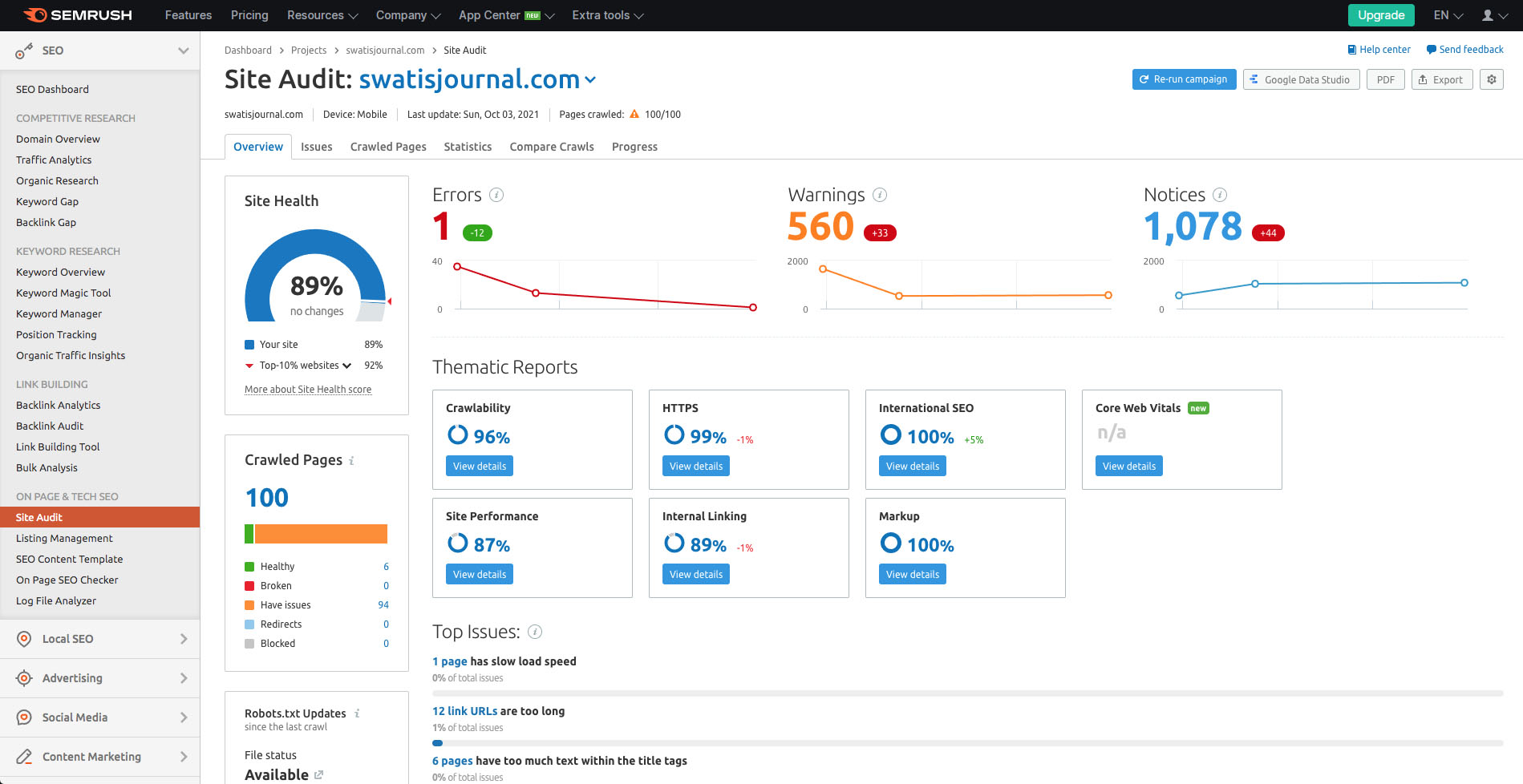 Another great thing that makes SEMrush different is that after it tells you what to do, it always explains to you the reason that why you should do it and how it affects your ranking.
---
SEMrush Pricing
Generally compared to other similar SEO tools, SEMrush is more expensive, and it does make sense due to its professional features.
SEMrush offers three different plans. Plans include Pro, Guru, and business which are $199.95, $229.95, $449.95 per month.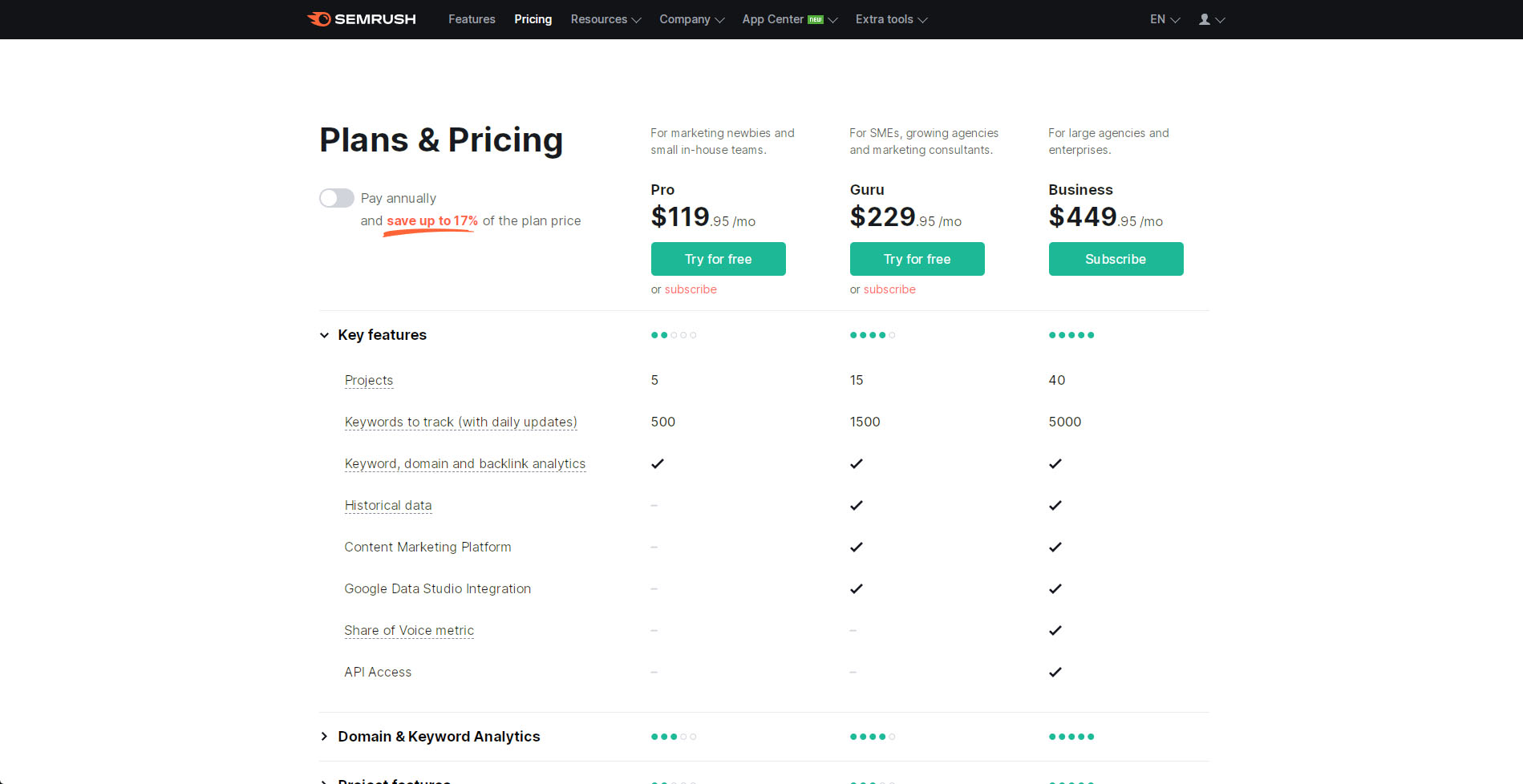 The main differences between these plans are the number of keywords you can track per month, the number of reports you can run per day, and accessing the marketing tools.
Note that the free trial of SEMrush is always available, and you can test it free for seven days.
So, although the SEMrush seems expensive to some people, some of its features are more useful than other tools. Finally, it's totally up to you to choose which tool suits you best, but if you can afford SEMrush, you never feel regret.