Welcome to Swati's Journal. Happy Reading!
Read 300+ short stories, kid's stories and wellness articles in Gujarati and English. Browse our #storyblog
Life is something too beautiful not to keep constantly analyzing for. While trying to figure it out or in searching for meanings of what's happening around, we miss to feel the charm it has. The beauty of life lies in observing it from inside out. A constant check snatches away the GRACE and PEACE! We don't need to do anything but to witness as the life knows when and how to make a shift. So, be a bystander and feel the shine! This poetry in english here can help you start a new journey towards Zen lifestyle!
A Message From Author
"Human beings and emotions are the subjects that tempt me the most. Relations are my forte. Ability to write in English and Gujarati both has given me a vast sky to spread my wings. Whatever I imagine, feel or observe I bring to you in the form of short stories and articles.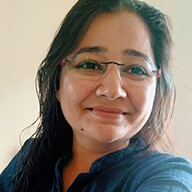 Swati Joshi
Founder, Writer at Swati's Journal