If you have just launched your website or started breaking into the SEO arena or learning its basics, the Ubersuggest would be definitely a great choice. Let's find a new way to keyword research.
It's been a while since I published a self help article about blogging. We learnt about GTMetrix in our last article.
I am going to discuss about one more such tool that can help you with planning your content. Yes! You guessed it right! It's about keyword research.
Managing and choosing the right keywords have always been the most vital factor for improving search engine optimisation (SEO) and getting more traffic. Fortunately, due to the advent of brilliant and specialised tools, this process has been getting so easy compared to the past.
Here we are going to review one of the best and most popular SEO tools called Ubersuggest, which helps you a lot to generate new keyword ideas.
So let's start to discover more about this amazing tool and get familiar with its stunning features. Ready to get started?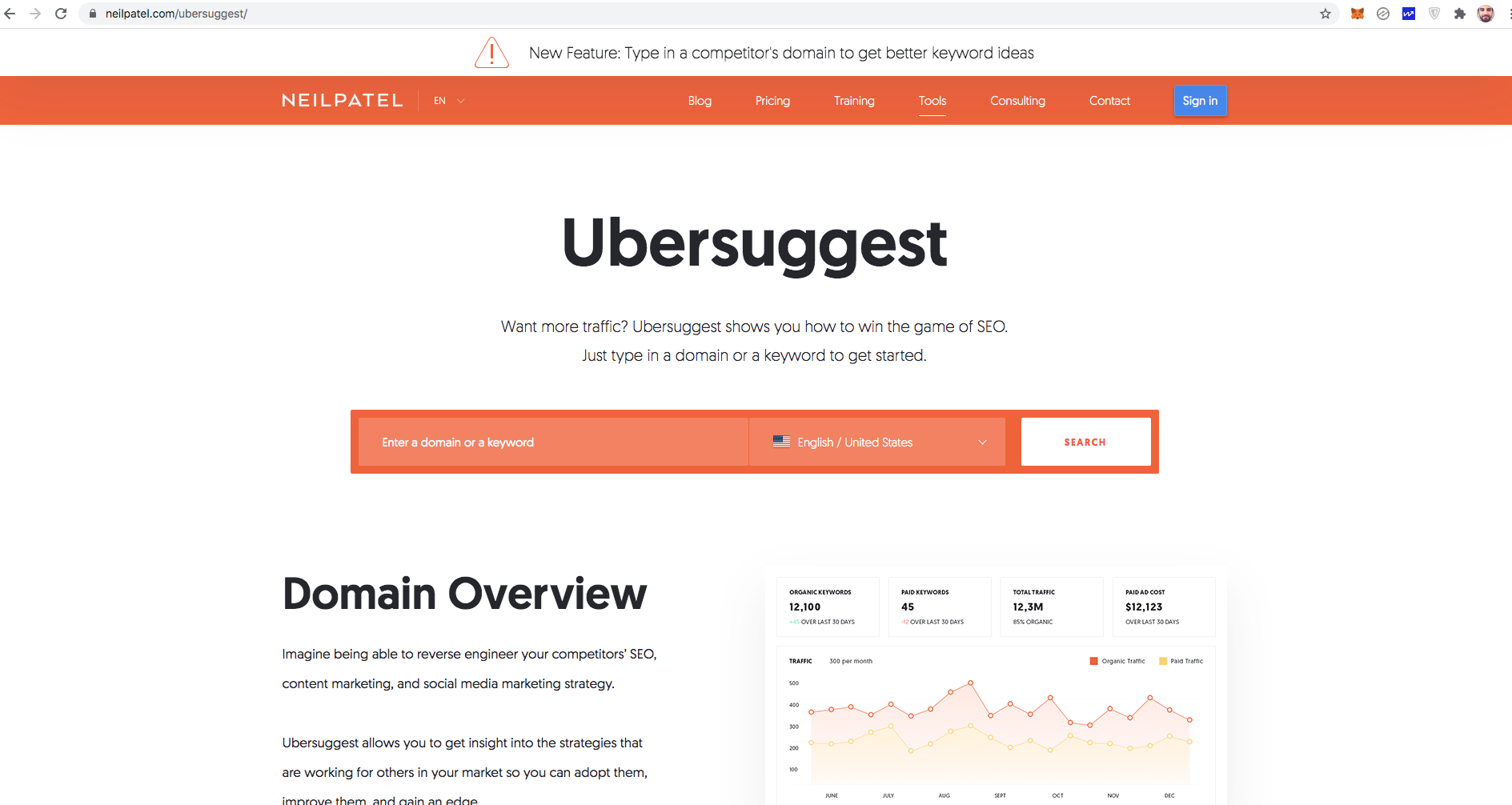 What is Ubersuggest?
Ubersuggest is a free SEO tool purchased by a well-known digital marketing specialist and entrepreneur Neil Patel in 2017. You can access Ubersuggest via Neil's personal website. As Ubersuggest is free, it could be a great alternative to former expensive tools with the same functionality.
The Ubersuggest's features are so varied and not limited to just discovering the keywords; however, this is its primary and main feature.
Two other valuable features of Ubersuggest are helping to find new content ideas and providing competition details. It's very similar to MOZ, SEMRush, and Ahref. But unlike them, Ubersuggest is not a paid tool. That's why it's been becoming so popular, especially for freelancers, bloggers and writers. Let's continue to check the features individually and learn how they work.
Competition Analysis
No matter what your website or blog is about, search engine optimization equals winning the competition. There are always many people competing with you, and a lot of them are really professional. So analysing the competitors, knowing who they are and how difficult the competition is, is vital for success.
You can analyse each individual competitor by pasting its website URL and realising what keywords it's focusing on.
For each unique search item, you will see three main pieces of information. The first is the website position, which means where it's ranked in Google pages.
Secondly, you can see the estimated traffic that they get from Google in that specific search term.
And the third item is the competition difficulty on that particular search term.
In this way, you will be able to get a snapshot of what keywords your competitors are using.
Keyword Suggestion
Now that you analyzed other websites and, even though you can get an idea for keywords, choosing them and finding suitable keywords for your audience is still difficult. Ubersuggest shows you recommended keywords itself based on what you search.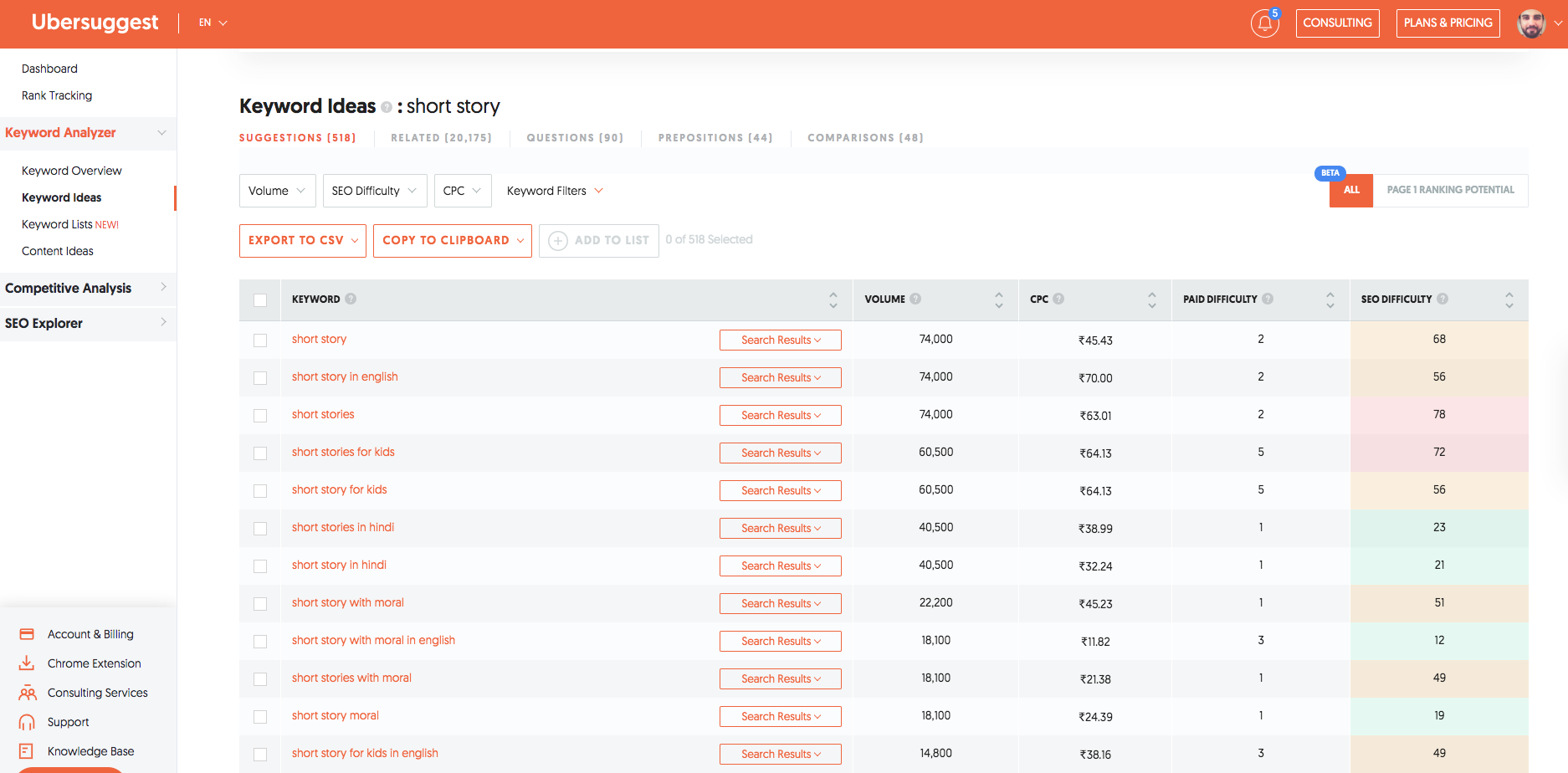 Furthermore, it shows you the best 100 pieces of content ranked based on your search term. In this way, get an idea of the contents that have already done well with your desired keyword.
Site Audit
The site audit is one of the two Ubersuggest's SEO analyzer tools. This feature reviews the whole SEO optimization state of your website and recognizes your general errors.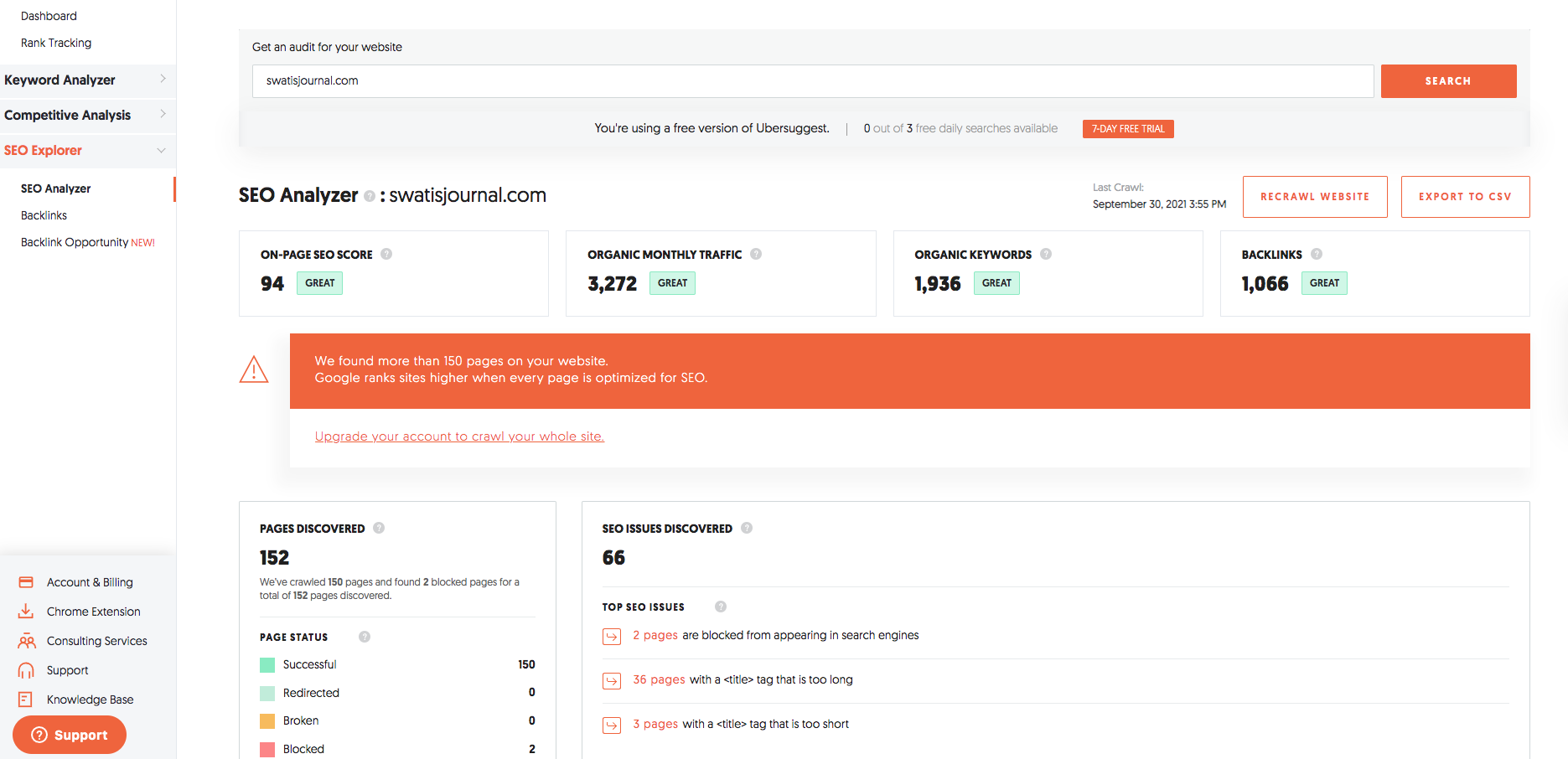 If something negatively impacts your SEO, it informs you and recommends you either removing it or an alternative option. All the mistakes would have a clear explanation to let you know what's wrong and how to fix it. It also provides some insights to inform you how difficult each error is to be fixed.
Average Backlinks and Domain Score
This fantastic feature tells you how many backlinks you need for your keyword to rank on the first page. It also tells you your average ranking site's domain score. This is what is provided in Moz Domain Authority.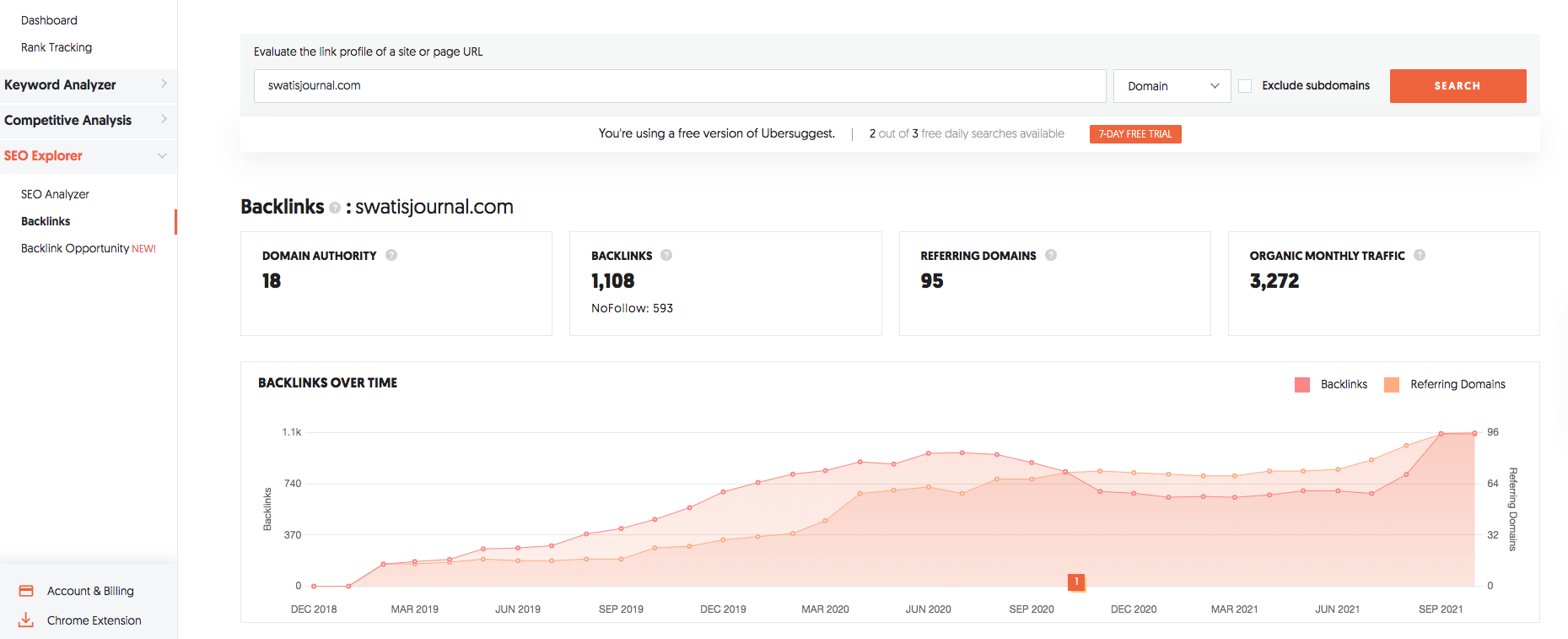 Traffic Analyzer Overview
By entering your own website URL, Ubersuggest provides you four main insights, which here you will see a brief explanation of each of them.

SEO Keyword Ranking
By this tool, when you search your domain, it shows you where your website tends to rank in the search result based on the number of keywords your website has.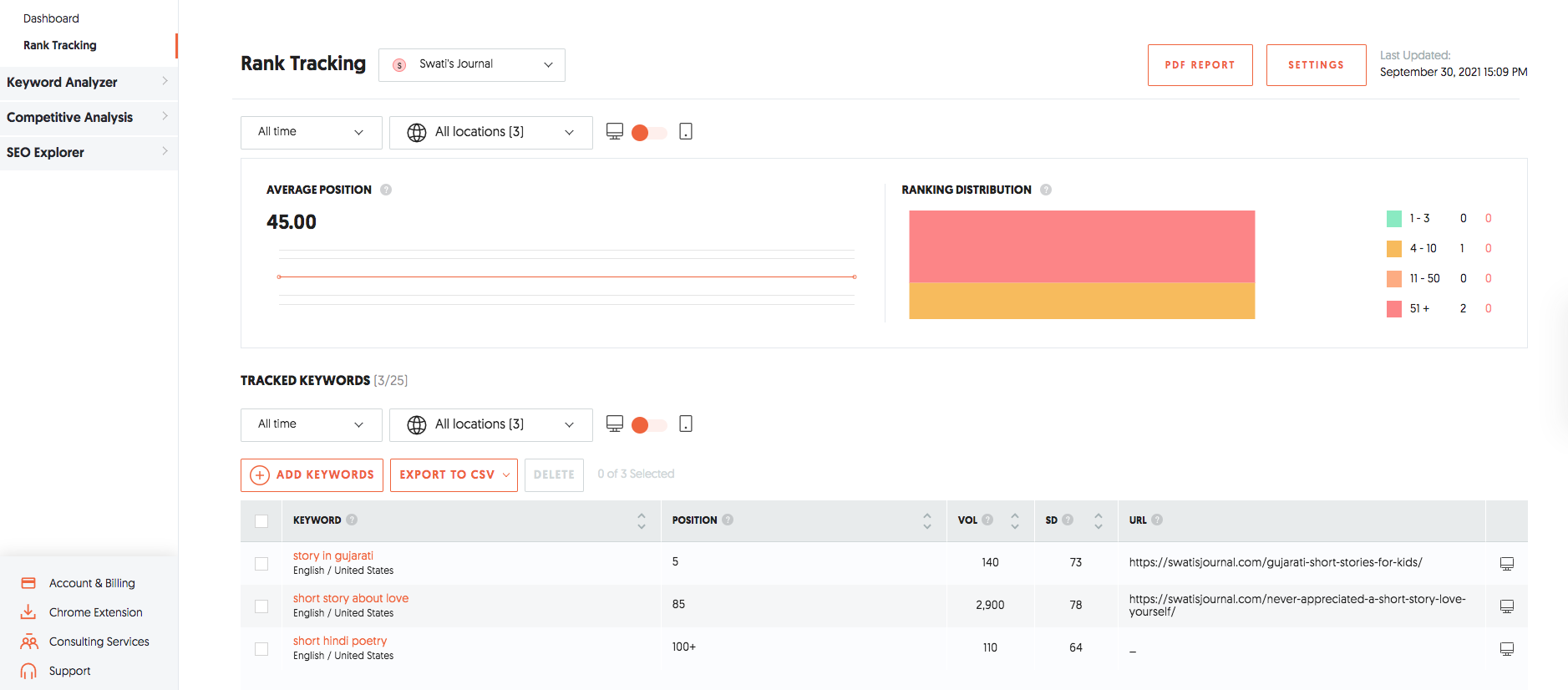 The result is shown in an image with different colors that indicates the possible area that your website could be.
Organic keywords
This shows the total number of keywords that your website ranks for in google. Remember that having too many organic keywords is excellent, but it doesn't mean that your website necessarily gets a lot of traffic.
As this feature is evident by its name, it indicates the total number of visitors your website has in each month.
This is related to your website's link authority. If your website has more high-quality backlinks pointing to, your score would be higher. Generally, it's more challenging to compete against websites with higher domain scores.
This is the last feature that obviously shows the total number of backlinks that your website has.
Is Ubersuggest Free?
The Ubersuggest is generally free, but it includes a premium version that provides you with additional precious features. Although the free version covers most of your needs unlike other same tools, the premium version makes the process significantly easier.
Another amazing advantage of the premium version is that signing up for an annual plan gives you two months free and provides a no-questions-asked money-back guarantee for 30 days. Moreover, the yearly plan is much cheaper and is going to be more economical.
Is Ubersuggest accurate?
So now that you got familiar with Ubersuggest's features, you can choose whether to use other similar tools like MOZ or Ubersuggest and which one suits you. If you have just launched your website or started breaking into the SEO arena or learning its basics, the Ubersuggest would be definitely a great choice. Still, if you are a professional who expects complicated information and details, you may need the premium version of it or other paid tools.